Parallel lines have a lot in common, but they never meet.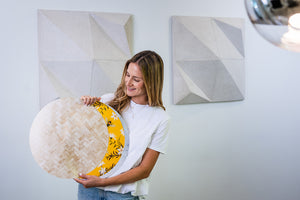 TRANSFORMING TABLES, ELEVATING MOMENTS
We're all about making home decor practical, enjoyable, and effortless. We believe in enhancing your living spaces while simplifying the process. Our products redefine the way you decorate, making it easy, stylish, and adaptable to your lifestyle. With our acrylic placemats, you can change the insert whenever you want, giving you the practical freedom to switch up your table's look every day. They're reusable and eco-friendly, so you can feel good about your choices. Discover the art of stress-free, ever-changing, and eco-conscious home decor with us!
#ShopParallelDesigns
THE FOUNDER
Veronica Benatar
In 2017, my journey with Shop Parallel Designs began after I married and moved into my new home. My search for both aesthetically pleasing and practical home decor inspired the creation of this online store, thoughtfully curated and designed by me. I'm committed to innovation, always on the lookout for fresh trends and new additions that align with my brand's essence. Join me in elevating your living spaces!